Suppliers of Q
uality Cedar Wood Fencing
Call us now on 01183 733363
CEDAR FENCING
Here at The Timber Merchants we believe a fence is a vital part of a landscape, it has such an architectural effect on signifying the look of your property and your choice of wood is always the finishing touch. We can provide the batons and posts for your timber fence.
Why cedar wood fencing?
Cedar has been a popular choice as a fencing material for a considerable time. It is a very durable wood and copes well with outdoor weather conditions.
A cedar fence will generally last longer than fences made from other softer, less durable woods. As well as a high durability there are natural oils within the wood that help deter insect damage and rotting and remove the need for any sealants.
Cedar makes a great choice garden fences and does not need to be chemically treated. This makes it a perfect choice for families who prefer to use natural products and have little time for ongoing maintenance. If a cedar fence is not stained, it will gradually weather and fade to a grey colour.
Although many people truly love the look of weathered cedar, in some cases this natural fading is not desired. In order to avoid this natural fading, the wood can be stained.
A well installed cedar fence will look great and stay that way for a long time. The wood will resist the wear and tear of the weather and also maintain it's aligned appearance, retaining its shape and size beautifully.
An Affordable Luxury
All cedar fencing orders are provided on a 15 day turnaround.
Cedar Fence Slats
(44mm x 18mm) supplied in lengths of 1.83m
£2.45 a linear metre
Cedar Fence Slats
(44mm x 18mm) supplied in lengths of 2.10m and longer
£2.75 a linear metre
Cedar Fence Slats
(68m x 18mm)
£3.50 a linear metre
Cedar Fence Slats
(94mm x 18mm)
£4.30 a linear metre
Please note, if you are looking for different sizes in the fence slats please get in touch and we will see if we can accommodate your request.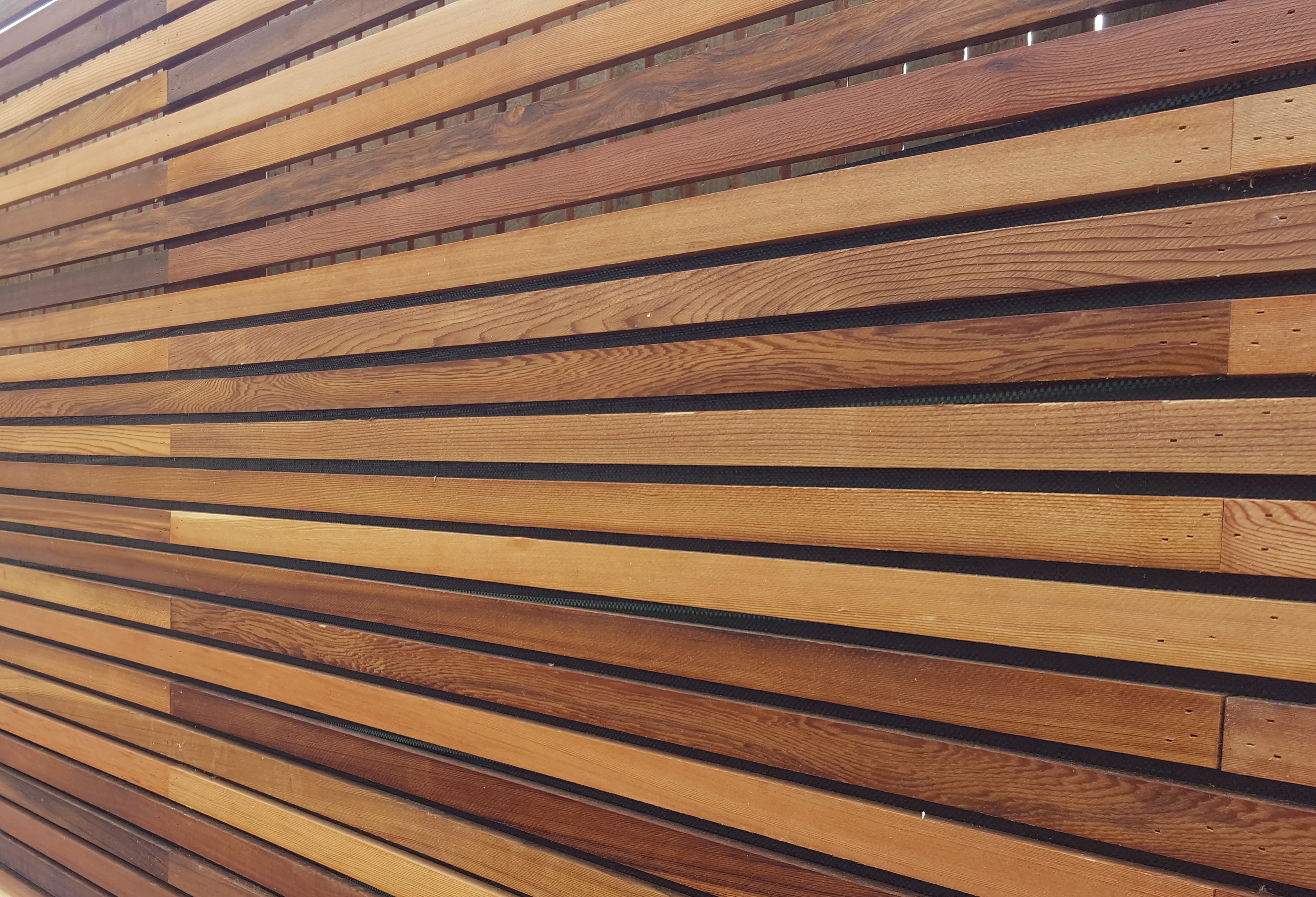 Contemporary Fencing
We can provide a wide range of high quality, contemporary styled fencing for our customers in the UK. If you are looking to carry out some garden improvements and want to introduce a tropical timber fencing then look no further. All of our tropical hardwoods are sustainably sourced from the highest quality suppliers so you can rest assured there will be no issues once the product arrives on site. All of our orders are provided with a guaranteed turnaround of 15 days so you know exactly when to expect your fencing – no more waiting around & chasing suppliers!
Contact us
today for a no obligation quote.
Did you know?
Cedar wood doesn't swell, shrink or distort to the extent of comparable lumber, even under drastic changes in temperature or humidity.
Did you know?
Tropical hardwood is extremely resistant to rot, fire, and insects.
Did you know?
Hardwood decking and fencing, if treated correctly, will last for at least 50 years. Soft wood decking if treated correctly will last up to 15 years.